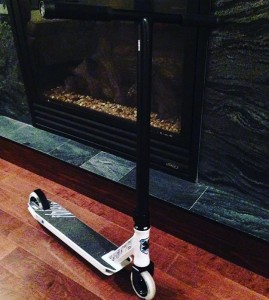 (Photographer: Me, that's my scooter)
Hi readers,
This is my first post that I get to choose the topic of, so today I will be talking about scootering. I have been scootering for a year now. I have learned many tricks over the year. I can do a… Barspin, tailwhip, 360, heelwhip and double tailwhip. My best trick is a fingerwhip which is when you take your feet off the deck, pull it up and spin the deck with your fingers and land with your feet back on the deck.
I scooter with my friend Lane, he is pretty good at scootering too considering he has only been  scootering for about a month now. His best trick is a tailwhip.  
It all started one day after school. Lane,my other scooter friends and I were outside. I had my scooter and I let Lane try a tailwhip on the flat ground. He was really close, so I said, "Hey we should go to the skatepark and Lane can try a tailwhip off a ramp."
So we went to the skatepark. It took a bit of time but eventually Lane landed it and he realised he liked scootering.
I got a Lucky Crew scooter (the one you see below)for my 11th birthday, Lucky is my favorite brand. I also like other brands like District, Ethic, Apex, Envy, North and Havoc. My favorite rider/riders are the Funk Brothers who are really good at scootering and they make cool vlogs. Their names are Capron and Corey, Capron is the older brother Corey is the younger one and they are sponsored by Apex.
Some other riders that are awesome are… JonMarco Gaydos, Cody Flom and Tanner Fox who are all sponsored by Lucky scooters.
 Well, there you go, all the things about me and scootering! Thanks for reading and see you next post!

~CarsonSave
Save